Accommodation
Main Venue : Haeundae Grand Hotel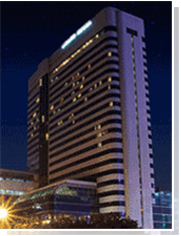 The Haeundae Grand Hotel emerged on May 30th, 1996 on Haeundae Beach, one of the eight most scenic sites in the country. The brand new deluxe lodging facility combines sports facilities for a leisure hotel complex.
The hotel has not only 320 spacious guest rooms and banquet halls but also state-of-the-art facilities for leisure activities, which are all attuned for the new concept of simultaneously satisfying the combined purposes of business, leisure and sports.
As the largest integrated leisure hotel in the area with a floor space of 102,138, it features large-scale swimming pools occupying two floors including one pool
as long as 50 meters with seven lanes which can accom-modate 1,000 persons, a 28-lane bowling hall, a theater within the hotel offering up-to-date audio and visual effets, a golf driving range. The hotel also has a hot spring bath loaded with natural minerals, equipped with special sauna docks for health buffs and other facilities.
For the special dining, there are multinational restaurants such as continental cuisine, Japanese, Chinese, as well as international buffet restaurants.
The special features of the hotel are its grand lobby, which has a three-story ceiling, lighted by a chandelier patterned after the Korean national flag, taekuk mark, and ocean waves, which boosts the high classic style of the hotel and glass elevators commanding a magnificent view of the pine trees along the beach.
The grand ballroom equipped with simultaneous interpretation facilities for six different languages can be used as a convention center for 1,500 people at a time.
Equipped with high-tech seminar-related facilities including latest lighting and acoustics equipment, the convention center is playing a pivotal role in Busan which is a center of international trade. The peaceful interior decor and ambience in each guest room will surely make every traveller relax comfortably while they stay in the hotel.

Other Venues : Haeundae Seacloud Hotel, Toyoko-Inn Hotel, Haeundae Glory Condo and etc.
For more information on accommodations,
please visit the website of Busan Tourism Organization by clicking on the link below.
Busan Tourism Organization - http://www.bto.or.kr/eng/06_visitor/a03.php